News
08.06.2020

---

COVID-19
Dear Madam, dear Sir, dear Friends of AVY,
The time for conviviality is back and it is with pleasure that we welcome you to our tasting area at the usual times.
We are able to welcome you personally or accompanied by your friends, in compliance with the standards of hygiene and social distance in force. Therefore and for the sake of serving you as well as possible, we invite you to reserve your seats in advance by telephone on 024 466 23 44.
Also take advantage of our "DISCOVERY" offer: 6 white wines, 1 rosé and 5 red wines from our range for Fr. 190.00 for 12 bottles instead of Fr. 226.30. Offer valid until August 31, 2020.
Yours.
06.04.2020

---

Open cellar for the State of Vaud
Dear Friends of the AVY,
As you might have guessed, it is with a heavy heart that we announce to you that the traditional Open Cellars, initially scheduled for May 30 and 31, 2020, have been postponed for a few weeks. But we can already communicate their new dates to you!
As you know, the Open Cellars are a moment of sharing and cheerfulness. We refused the idea that they should be canceled, so we are happy to inform you that this flagship event in our canton will take place on September 5th and 6th, 2020.
We are already looking forward to welcoming you.
31.10.2019

---

Autumn Open cellar
Join us on the occasion of our traditional autumn open cellars! In the program :
The entrance fee is CHF 10.- and includes a glass in the colors of the AVY, as well as a voucher of CHF 10.- to be valid for the purchase of 6 bottles.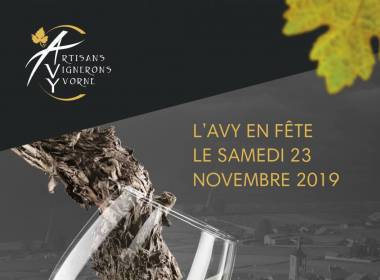 12.09.2019

---

Comptoir Helvétique 001
From September 13th to 22nd, we welcome you at the Comptoir Helvétique, Stand n°60/hall 9!
A great opportunity to come and taste the wines of the cellar and more particularly the last two-born of the assortment, our Œil-de-Perdrix and our Doral.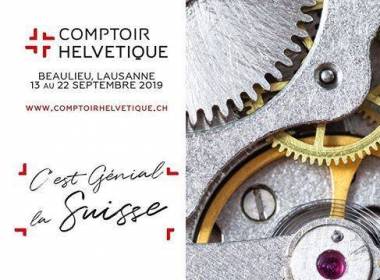 23.08.2019

---

Mondial des Pinots 2019
A major event for producers, distributors and consumers of Pinot wines, the "Mondial des Pinots" is an international competition organized each year by Vinea Sierre, with the support of Swiss Wine, under the patronage of the OIV, UIOE, USOE and VINOFED.
The 2019 edition took place from August 16 to 18, and our wines distinguished themselves here. The Yvorne Feu d'Amour 2018 wins a gold medal and the Yvorne Œil-de-Perdrix 2018, the youngest of our family, wins a silver medal, his first reward, undoubtedly the first of a long series!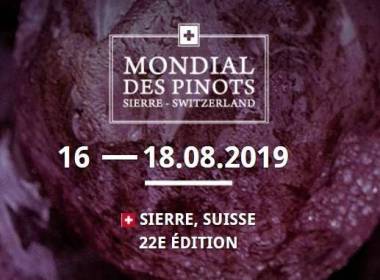 16.08.2019

---

Gourmet market of Evolène
We will be present at the Marché Gourmand d'Evolène which will take place on Sunday, September 15th, from 11am to 6pm in the center of the village.
Our wines will be served by the glass, while our friends from Canada-Switzerland will have the pleasure to introduce you to biscuits, sweets, maple syrup and other Quebec specialties, as well as a Canadian-inspired menu.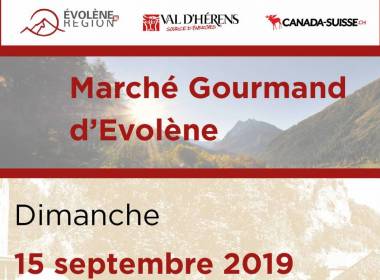 26.07.2019

---

Swiss Wine Award 2019
The Swiss Wine Award 2019, whose aim is to highlight the quality of Swiss wines, is a joint project of the VINEA Association and VINUM Magazine, and took place from 24 to 29 June 2019.
Our wine distinguished themselves by winning two silver medals for the Label Vigne d'Or Pinot Noir raised in Oak Barrels and Magnus Corpus as well as two gold medals, for Yvorne Feu d'Amour and Yvorne Ange et Démon, proving once again that our sweet wine from Chasselas is simply the best in the world !
You will find more information about the contest and the results here.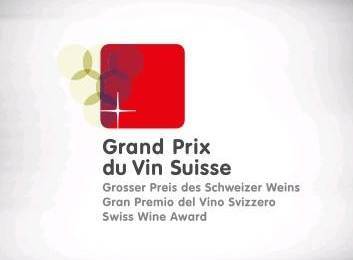 04.07.2019

---

Cave Vaudoise at the Fête des Vignerons
From July 15th to 29th, you will find our Chant des Resses at the restaurant Cave Vaudoise on the Place Scanavin !
Book your table and check the menu HERE.
01.07.2019

---

Mondial du Chasselas
The Yvorne Chablais AOC "Ange & Démon" 2017 is the best sweet chasselas in the World.
This is at least the opinion of the jury of the 8th edition of the Mondial du Chasselas, an international tasting competition that saw 867 samples from five countries compete this year, including 36 in the category reserved for wines over 4g/l of residual sugar.
The Optimum has also been awarded a Golden Distinction in the dry white category.
Page : 1 2